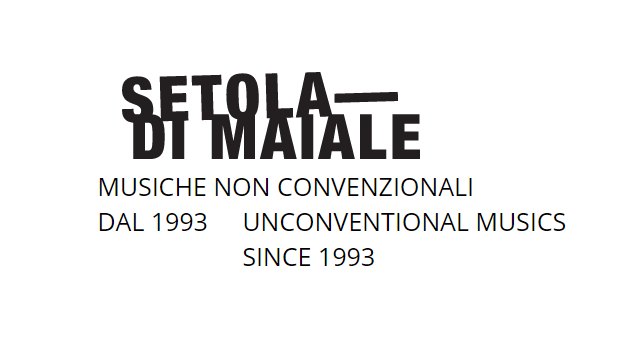 My thoughts about some new releases from Setola di Maiale.

Francesco Fornarelli / Andrea Massaria / Marcello Magliocchi   -Urban Edges-
The music on Urban Edges, an album recorded in Bari by the trio of Francesco Fornarelli on piano, Andrea Massaria on guitar and pedals, and Marcello Magliocchi on trap drums, represents a hybrid made up of acoustic free jazz for piano and drums on the one hand, and electronic experimentation on effects-modified guitar on the other. Each of the two elements in this hybrid throws a sharp light on the other, in the process allowing its essential qualities to stand out.
From free jazz the music obtains a nervous intensity that comes out particularly powerfully on the track Instant Perception. On this dense, urgent piece of collective improvisation skittering piano and drums lay a foundation for a heavily reverb-drenched, otherworldly sounding guitar. On several pieces the voices divide up to highlight the trio's constituent stylistic elements. On Free Rules, a piano-and-brushes opening gives way to a wide open, free form guitar solo. On Blurred Sounds, a long middle section is given over to a desert soundscape of thinly etched electronic sounds. Underpass is a fine solo feature for Fornarelli's pianism;  the bright atonality and skittering energy of his conventional playing is countered by occasional forays into pure percussive thumps and taps, inside the piano playing, and pedal-down rumbling.
Although the album is frequently marked by an attitude of turbulent exploration, there are quiet moments as well. Blinking Lights is a piece of sparse, reserved playing, which benefits especially from Magliocchi's subtle sense of color and space.
THE RAMBLIN TRIO (Daniele Cavallanti, Alberto N. A. Turra, Marco Cavani)
The ground on which jazz and rock overlap is fluid and potentially always in motion. The two genres can combine in a virtually unlimited number of ways, whether through borrowings of formal structures, harmonic material, timbral biases, improvisational emphases, and more. Any given attempt to create a jazz-rock or rock-jazz will balance these elements in its own way, leaning now to one side, and now to another. In its self-titled release the Ramblin Trio clearly leans to the rock side while at the same time retaining a jazz sensibility.
The Ramblin Trio is Daniele Cavallanti tenor sax, Alberto N.A. Turra, electric guitar, and Marco Cavani, drums. The group's generational makeup is noteworthy and likely to have had a role, no matter how subtle, in its approach to fusing jazz and rock. Cavallanti was born in 1952, whereas Turra and Cavani were born in the mid-1970s – meaning that the latter two came of age musically after rock had established itself not only as the dominant form of popular music, but also as having opened a way toward musical experimentation within its own parameters. Cavani and Turra are at home in this latter area, while Cavallanti is rooted in the field of the jazz avant-garde; hence the Ramblin Trio's creating music from the crossing of two different avant-garde traditions.
The group takes compositions from each of these two traditions to bookend the album. One Time Out, the Ramblin Trio's opening track, begins with a unison statement of the melody before flying off into psychedelic, free-form rock. Cavallanti introduces an element of swing with his solo; Turra's solo, colored with feedback and wah-wah, sits well over Cavani's free-jazz drumming. From the jazz side is the closing track, Ornette Coleman's Ramblin, from the Change of the Century Album. The group's interpretation includes a fine solo by Cavallanti, but is dominated by Turra's guitar experimentation. Here as in other tracks on the album, Turra makes up for the lack of a bass by laying down low-string lines under Cavallanti's solo.
Among the originals, Cavallanti's Nexus, a ballad with a Latin American feel, brings the music into a side channel of the jazz mainstream. Cavallanti's solo is lyrical and at times evokes the gentler side of Gato Barbieri's playing, without being derivative; Turra's solo is played with a highly overdriven tone, but somehow remains entirely germane to the song's structure and atmosphere. Angel opens with a tom-tom roll and moves into a mid-tempo blues rock chord progression outlined with arpeggios on guitar. Cavani's Drunk in the Desert has a funk-swing feel and an altered scale melody that naturally opens a path for Cavallanti's serpentine jazz tenor solo. Here Turra eschews a heavy rock tone and plays instead in a style closer to a standard jazz guitar sound.
There is fine playing by all three on the album, but if any single voice gives the trio its particular flavor, it is Turra's. His soloing and accompaniment are energetic, his tone has rock edge that colors the music around it. It is a large part of what gives the Ramblin Trio's blend of rock and jazz a unique and intriguing signature sound.
POND WAVES (Errico De Fabritiis, Alberto Popolla, Mauro Pallagrosi) – Live at Metro Core –
Pond Waves, an improvising trio based in Rome, forges its sound from an unusual instrumentation. All three members of the group – Errico De Fabritiis, Mauro Pallagrosi, and Alberto Popolla – play reed instruments. While Pallagrosi limits himself to soprano saxophone, alto saxophonist De Fabritiis also plays sound objects and didgeridoo, while Popolla supplements bass clarinet with electric bass guitar. Given this combination of instruments the group's sound can be expected to be unique and it is; theirs is a texturally-focused variety of collective contrapuntal improvisation based on constantly mutable field-figure relationships.
One of the structural near-constants over the course of the seven pieces making up the album is the use of drones or ostinati to center the music tonally and to establish baseline textural fields from which the soloists can project. This is apparent from the very first piece, Imaginary Pond. De Fabritiis' didgeridoo drone right away defines the fulcrum on which the other two voices will pivot. Pallagrosi's soloing takes on a phrygian color against the drone; the ensemble is completed when Popolla brings in bass clarinet to harmonize with the soprano before ranging further afield with an expressionistic solo. Popolla opens the next track with a melancholy bass clarinet soliloquy based on a four-note motif and variations; it is the soprano saxophone that provides the drone here, pulsing quietly in the background before gradually moving to a more assertive turn at harmony that mutates into a full-on contrapuntal duet with the bass clarinet. On Sheltering and Playing with the Storm the bass clarinet once again is the first voice heard, this time to lay down a field of repeated rhythmic figures, supplement by De Fabritiis on percussion, for Pallagrosi's soprano to play over. The two pieces that include Popolla's electric bass – River Rapids and Maelstrom – use the instrument in structurally and sonically different ways. On River Rapids the bass, played with a bright-toned, flanging effect, supplies a backbone of riffs and chords for soprano and alto saxophones to harmonize over. On Maelstrom De Fabritiis, presumably on an uncredited baritone saxophone, provides the ostinato over which the bass, with a darker, more subdued sound, maps a basic harmonic field. The album's final piece, the deliberately paced, finely harmonized The Return of the Fishermen, has all three musicians on reeds. There, Pallagrosi's soprano is featured as soloist against parallel slow, four-note themes voiced on bass clarinet and alto saxophone.
Lorenzo Labagnara  -THE INCREDIBLE TRIP OF THE WHALES –
Lorenzo Labagnara's The Incredible Trip of the Whales is a concept album based on an ecological fable of epic reach. Labagnara, a self-taught multi-instrumentalist, appears on the recording on piano, flute, trumpet, bowed electric bass, and electronics. His most salient presence isn't necessarily as an instrumentalist, though, but rather as a composer, since this one-man project by necessity had to be assembled and arranged into a cohesive architecture. The result is a narrative arc connecting a set of instrumental episodes, using contemporary studio tools and techniques.
The incredible trip Labagnara's album tells of is a kind of cetacean Odyssey that includes encounters with swordfish, sirens, and jellyfish before reaching its point of arrival in salt water. This is program music whose different sections have been scored to illustrate characters, settings, and events. For example, the Discorso della vecchia balena is an instrumental aria for a Nestorian whale whose voice is portrayed through the deep, slow tones of bowed electric bass. Similarly, the sirens are voiced by long tones on trumpet and the jellyfish by sweeps played directly on the piano strings. A long meditative section for piano frames Le Note d'acqua as well as L'Ultimo incanto, while the trumpet returns for a dance through the seaweed.
Although The Incredible Trip of the Whales tells a story, it isn't necessary to keep that story in mind in order to enjoy the music. The album is programmed as a one continuing piece, which can be listened to as an integrated weave of instrumental performances and colors, naturally flowing into each other.